Document 4.1: Dealing With Change
"So many questions he had for me," the psychic tells you, looking over this grid. "'What will happen with my company? What will happen to me?' Yet he never liked my answers. 'The stars predict change,' I would tell him. 'There are many changes ahead, both major and minor. But some things, when they change, stay the same.' Of course, you don't need a psychic to know that. Even so, all it did was make him angry."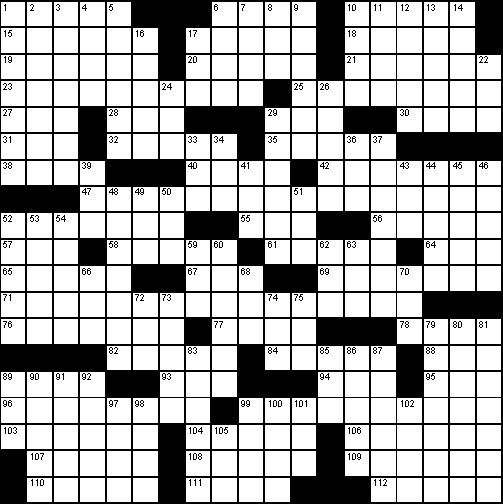 ACROSS


Single from "Us"
Part of METO
Kind of base or station
Let
Member of the Viperidae family
PR problem for McDonald's
1975 Isabelle Huppert film
Sacred mound
Sacred place
Plummeted
Detailed bit of masonry
Annum in a Kubrick title
___ des Pins
One making a formal entrance of sorts
Lee who had a cameo in Spider-Man
A billion years
Ladies, formally but archaically
Ones on a teen's wall
Reachable area: abbr.
Mystery novelist Pears
Intrinsically
Cruciverbalist
Rummies may run them
Band formed by two ex-members of Kraftwerk
Trunk
Neuf minus huit
Square
Loot
46-Down, to Caesar
Actor Williamson
It holds up the net
They're northwest of Jamaica
They partially cover you
Emulate Zonker, in his heyday
Toll
This puzzle has one
Play to the back row
Mole
Wow
All's Well That Ends Well has five
Water tester
Bandmate of Sterling, Maureen, and John
Monk's title
Slivovitz and cognac
Puffer's kin
Movie whose 1988 sequel is subtitled "The Return"
Brown ermine
Hair nets
"I surely ___" ("El Condor Pasa" lyric)
Edict
Actress Brennan
___ Park, Colorado
Jab
Mulcahy, to Potter

DOWN


*One sending false information, perhaps
Ajax's father
Wearing away
Grenoble girlfriend
Fail to use the sight, perhaps
Movie about a reality show
In unison
Equinoctial mo.
Used a camera lucida
*Trying thing
Folksinger Phil
Infusions used to make beer
The Cocktail Party playwright
Lisa of "Melrose Place"
Inventor Nikola
"___ was saying..."
*Poetic contraction
Roam
WWII sub
Postprandial things generally follow it
Say wrong
Gall bladder, for one
Item in an env.
Forty winks
Outer: prefix
Charged atom
Baudolino author
Places in the heart
Violinist's need
64-Across, to Napoleon
Wasn't prompt
Honor received by Patrick Stewart and Charlotte Rampling
Uzbekistan, once
Designer Anna
Running a scam on
Pernod flavoring
Fix a bad do
"Forgot About ___" (rap hit)
"Woo-hoo!"
Watchdogs of the airwaves
Narrative poem
___ pro nobis
Barney's barkeep
It has the taste of umami
Platoon subject
Twenty fins
Cat seat
Poorly
Used a CB
"Hmmm..."
Sovereign territory
Fifty-fifty chance
Bernina or Jungfrau
Part of a lasso
Rutabaga root
Jackson 5 hit
Fast Times at Ridgemont High screenwriter
Nogales noshes
*It's involved in getting a cocaine fix
Politician in a Pepsi commercial
They're not Dems. or Reps.
*Wash
Simplicity
Bolted some nuts
Architectural dome
Elvis Costello song subtitled "Boxing Day"