Document 7.7: That's Right
Unsurprisingly, perhaps, at this point, you find another puzzle grid among the napkins. More surprisingly, upon examination, it actually contains instructions: "Each entry in this grid starts from its numbered square and travels in any orthogonal direction, making exactly one right-angled turn at some point."
"Well, at least we know how to treat this one," you optimistically state.
"You never know - it could take a turn for the worse."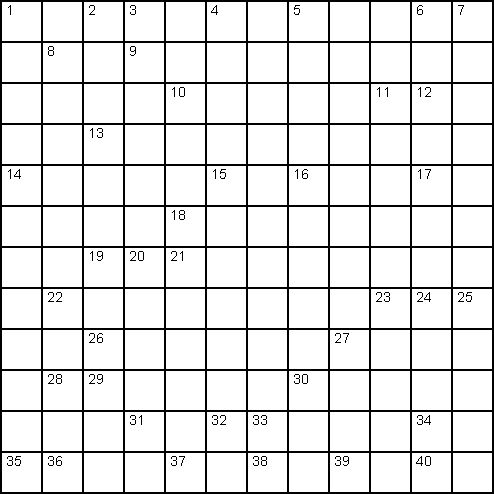 Imminent: 3 wds. (15)
Crush, e.g.: 2 wds. (10)
Like Oscar Madison, to put it mildly (6)
Used one's reservations: 2 wds. (8)
He played his last U.S. Open in 1994: 2 wds. (12)
Do some pre-Xmas preparation (4)
Red inside (4)
Dish topped with browned bread crumbs (6)
Quarrel (5)
From Spain or Portugal (7)
Like items at garage sales (4)
Word before coat or mouth (6)
Use feng shui, perhaps (10)
Transition (5)
Julia's ex (4)
1967 Rookie of the Year awardee: 2 wds. (8)
Exchange (4)
Boorish (5)
Unlike Voldemort? (7)
Curve (3)
Sea creature on a Magic card: 2 wds. (8)
Beauty shop treatments (7)

Old fogy (6)
Rap sheet datum (6)
Ford model (6)
Support financially (4)
What answer 5 likes to be: 2 wds. (8)
Witch in a Miyazaki film (4)
TV show with a Gorey intro (7)
Inverness residents (5)
Prelude to a comment (4)
Use a prie-dieu (5)
It's set in Titipu: 2 wds. (9)
Facsimile (7)
Where two-seaters might land (7)
43,560 square feet (4)
Lean (4)
Local branch (7)
He wasn't old, but he was a man: 2 wds. (9)
Part of some funeral rites (4)
Fictional governess: 2 wds (8)
"99 Luftballoons" singer (4)
He directed Marlon in three films (4)